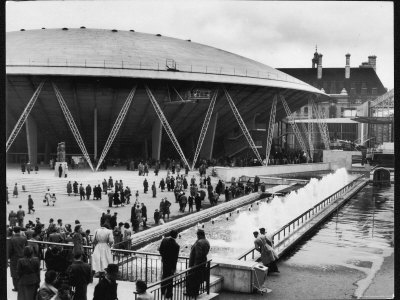 From April to September this year, the Southbank Centre is celebrating the 60th anniversary of the Festival of Britain, which first hit our shores way back in 1951.
Back then, they seem to have celebrated by building things – creations like the exciting-sounding Dome of Discovery (essentially an art gallery) and the intimidating SKYLON (the show's "Vertical Feature") for example.
But things have changed. Perhaps it demonstrates the shifting priorities of modern Britain (or perhaps the lingering influence of the Millennium Dome) but in place of these elaborate constructions, this year's festival has seen a spate of pop-up restaurants appear along the bank of the Thames, offering Londoners a nice taste of something new and exciting from a number of proprietors.
One of these is Pitt Cue Co. – a BBQ project from Tom Adams and Jamie Berger (who served us with charm and patience in equal measure.)
But really there's one question on everyone's minds – how does it compare to the SKYLON?
Read on to find out…
PITT CUE CO.
The first thing to strike me, and something which bodes well for its prospects with passers-by, is the smell. Pitt Cue Co is a barbecue joint in the most tantalising sense, which fulfils every promise that wafts from its shiny tin van.
We arrived around 7 on a Friday, based on a slight paranoia about waiting times at places that don't take reservations and found operations just ramping up. Starting with a couple of cocktails, prepared speedily and strongly, we also lined up a PittCueCo treat – Picklebacks.
A Pickleback (£5) consists of one shot of bourbon, followed by a shot of pickle brine and a bite of crackling. I highly recommend you start your meal (and perhaps all meals) this way to get in the spirit of things.
THE FOOD
I went for the Longhorn salt beef brisket with homemade BBQ beans while fragrant girlfriend ordered the classic pulled pork with a side of homemade slaw, both £7. (Yes, we got the sides backwards really…)
Both were put together in no time at all and included a dash of some spicy red ketchup substance which brought a great sweet warmth to the whole box, and a sharper relish comprised of what looked like gherkins and spring onions. Each came with a different bread to accompany – the pork, a toasted chunk of white roll and the beef a dense and seedier wholemeal loaf.
The great thing abo—
Oh wait. It's time to look at the beef again.
I rest my case.
THE BEANS
The BBQ beans were unexpectedly even more joyful than I'd anticipated. The flavours of the sauce mingle deliciously (in a way which would have been even better on the pork) while keeping the flavour of the core bean itself strong enough in the mix. The slaw was good but is really worth saving for the hot wings or something spicy to provide maximum contrast.
THE VERDICT
I know some people like to save bits of their meal to eat at the end but there are many reasons that's hard at Pitt Cue Co. First of all, once you've tried a little bit of each component in your box, the flavours all quickly start to mix together – the flip side being that every bite is a surprising mix.
But also, it's tough to pick a favourite bit. Even the smallest touches are so delightfully tasty, simple and well cooked that sitting there with the ensemble in front of you, next to the river and (on our visit) with a great live band playing, I can't imagine how lucky we are to have this instead of the Skylon.
Or maybe that's just the Picklebacks talking…
Play us out boys!